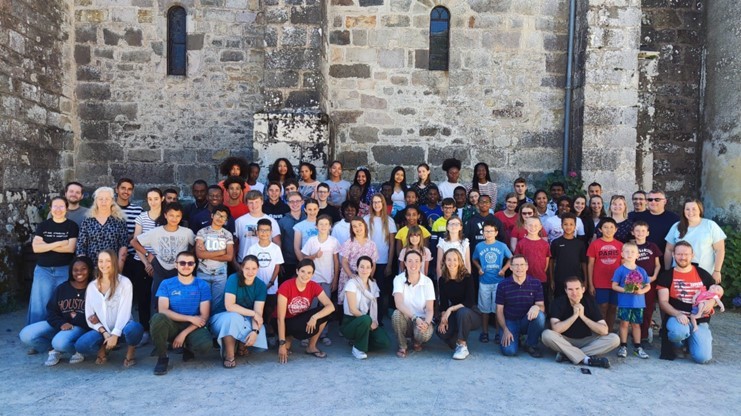 July-September
"The Lord hath done great things for us; whereof we are glad." Ps. 126:3

Dear praying partners,

We are glad indeed, not because of success, nor because our life circumstances are pitch perfect. We rejoice because we have an Almighty, faithful God! Please allow us to share with you the great things the Lord has done for us this summer, so you may also rejoice and praise God with us!
God's work in Amiens
Summertime is usually synonymous with low attendance for churches in the northern part of France. This was somewhat the case for the church in Amiens as our coworkers were back in the United Sates for furlough and several of our students left either to visit family or went to Paris for summer jobs. Yet, we were happy to welcome a few new visitors to our services. N**** and her adult daughter A*** moved for professional reasons from sunny southern France to our rainy area just about a year ago. As you can imagine, it has been quite difficult for them to adjust to our northern climate. These Christian ladies found our church in July and have been coming regularly since. Please pray for N****'s husband, who does not know the Lord yet.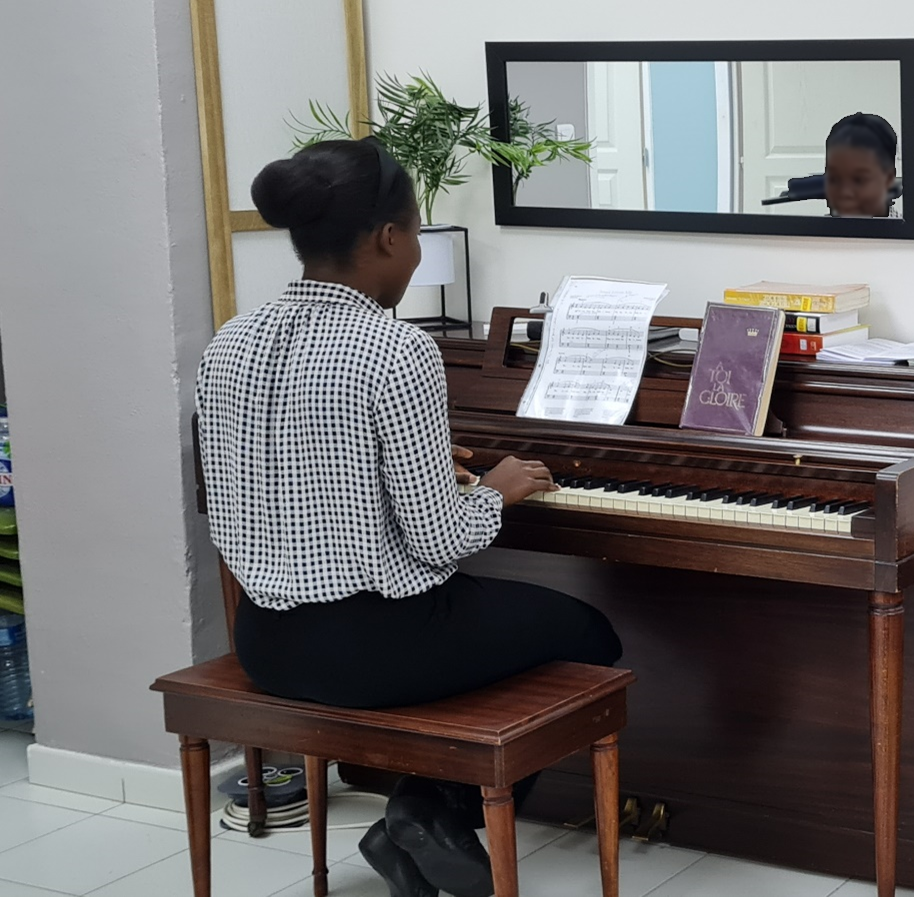 L*** and his two-year-old son D***** have also been coming regularly. They are from Ethiopia and have recently settled in France. While Lamy speaks and understands English better than French, we thank our Father that we are able to communicate with him. May the Lord use us to help them in their spiritual needs.
We are happy for R*****, A***** and E****, who have joined the Bible Baptist Church of Amiens in membership. One other sister in Christ has shown interest in officially joining our assembly. We rejoice and give glory to God for their desire to take a more active part in the ministry.
Summer Camp
Summertime is definitely synonymous with camp. In August, our family traveled down to Larodde, accompanied by our nephew Lémuel. This year again, Damaris and I had the same responsibilities as previous years. While I taught a group of 28 teens in the morning, Damaris joyfully taught God's word to a group of juniors. She also led the kitchen team in the evening and helped me with the juniors' evening services.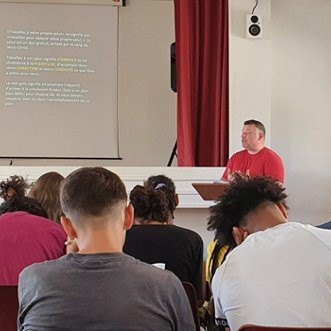 We thank God that we were able to enjoy a full two weeks of camp, unlike last year because of Covid. Though we have many more reasons to rejoice and praise God for this camp, the highlight this year was A***, nine years old. He is one of our son Abel's friends, who has faithfully been coming to Bible club throughout the year. Though unsaved and to our biggest surprise, when his parents heard about the camp, they immediately wanted him to attend. Sadly, when they sent in his application the camp was already full. While we were rather sad about it, we prayed for God to allow him to attend. We were so happy and thankful to our Father when we were informed that the camp had added an extra bed for him. Yet, the amount of joy we felt at that moment didn't come close to the one we experienced towards the end of the first week of camp.
During the entire camp, Damaris and I traveled back and forth to Amiens on the weekends to be with our congregation. The first Saturday, we received a text message from a counselor concerning A***. He informed us that during their evening devotions, A*** became afraid after reading about the end times. So, his counselor took time to show him that with the salvation Jesus offers, there are no more reasons to be afraid. After sharing the Gospel with him, A*** trusted Christ as his Savior! We praise God for this new heaven-bound soul! Please pray for him to grow and continue to pray for the salvation of his family. His parents were able to visit the camp towards the middle of the second week. They were much impressed by the peaceful, loving and caring atmosphere which reigned. When A*** shared with them about his salvation this opened an immense door for presenting the Gospel to Eric and Marie, which we did over the evening meal we shared at camp. Please pray for us to have more opportunities to talk to them about the Lord.
Changing Times
Though this summer was filled with joy, there were some significant events tainted with sadness. While at camp, we received news that our neighbor Catherine passed away alone in her sleep. We were sad to see how her life deteriorated through the years, but mostly because she has never shown any repentance whatsoever.
This summer, we also helped my parents, Bernard and Bernice Dodeler, move out of the Bible institute. They left for the United States on September 13 to prepare for their retirement in Wisconsin. On October 10, during Baptist World Mission's annual meeting in Indianapolis, my parents, as well the Knickerbockers (Damaris' parents), were honored for their 50+ years of ministry in France.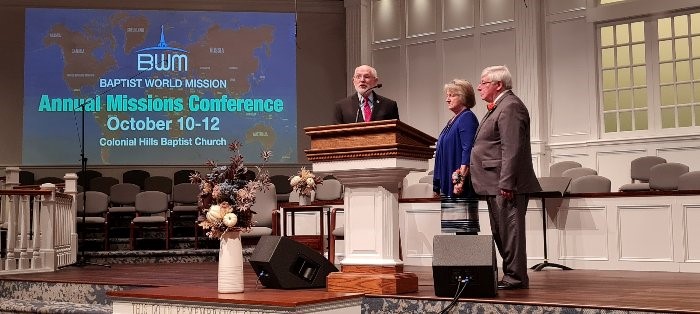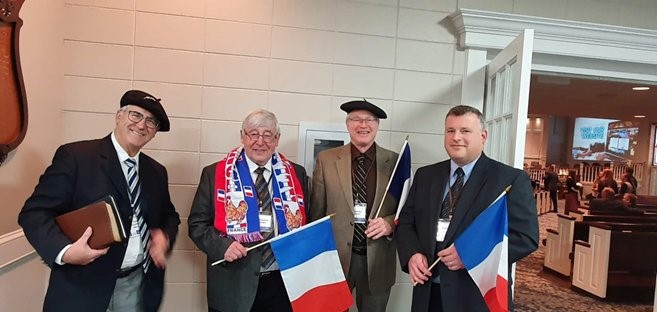 We are thankful to have been able to take a short trip back to attend this special event. We are so grateful for our parents' spiritual legacy, which continues to guide our own lives and ministry. During this short trip, we were also able to visit family members and enjoyed a Sunday in our sending church of Rochelle, Illinois.
After 53 years of training believers for the ministry and after many prayers and consideration, it was decided to close the Bible institute in Limay. Over the decades, many servants of God were trained there and have had a meaningful impact in France, for which we praise the Lord. I, thus, made several trips in September to help Pastor Doucette empty the premises and to help my brother-in-law Andrew Livingstone load a truck with books and some furniture given to the camp ministry with part of the voluminous library.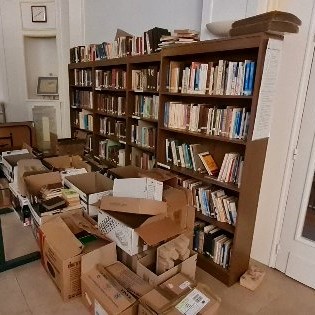 Though these last events brought tears to our eyes and made our hearts heavy, they are, however erased, for God has done great things for us this summer and thus we rejoice. We rejoice for the new church members! We rejoice for the salvation of A*! We rejoice for the visitors! We rejoice for the wonderful testimony our parents have! We rejoice to count you as our partners!
Bible Project

At the end of October, our church will hold a week-long Bible Expo to present its origin and transmission, but also its message and relevancy for our modern world. Billy Allardice, a fellow missionary, and a church in central France have graciously lent us their display along with some antique French Bibles. Please pray for this event to allow us to meet new people and to share the Gospel with many.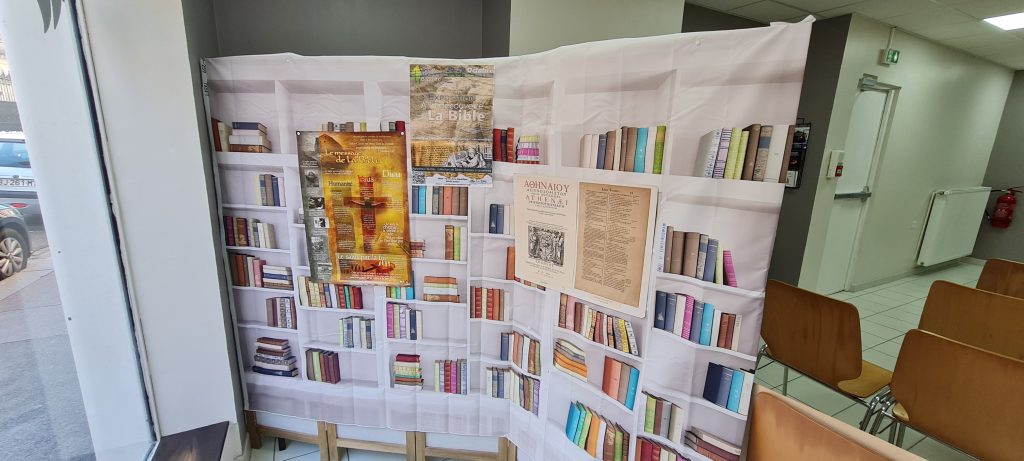 We thank you for your love, your kindness and your help manifested through prayers and through financial support.
In His service and in yours,
Jeremie, Damaris, Adam, Abel and Anthony